Product Description
Fusion Outdoor Pool Dining Table
The Fusion Outdoor Pool Dining Table comes with free delivery and installation. Made in Liverpool, UK, the Kensington Fusion Outdoor Pool Table is a high quality outdoor English pool table that doubles up brilliantly as a dining table when not in use.
The Fusion Outdoor Pool Dining Table is available only in 7FT, and utilises a supreme quality one piece Brazilian slate fully covered in outdoor friendly black high speed cloth to provide a professional gameplay.
As an authentic English pool table, the Fusion Outdoor is designed for use with 2″ red and yellow balls as standard, but you could opt for stripe/ solid on request. English pool is a game of precision where pockets are cut proportionately smaller, and is the ideal kind of pool for a 7FT pool table.
The Fusion Outdoor is one of the most impressive outdoor pool dining table in the market today, especially at this price. The table's minimal body is stylishly matched with the aluminium legs while the cabinetry is made with marine grade plywood. The table is matched with a 2-piece 6mm thick toughened smoke glass while a in-built ball return system brings the balls conveniently to the front.
If you're looking for a dining table for your garden, the Fusion Outdoor is definitely the perfect option to give you the flexibility of having a game of pool every now and then, while giving you a table that looks stunning, professional quality gameplay and superior quality all round.
TABLE DIMENSION:
The Fusion Outdoor is only available in 7FT. Dimensions are listed below.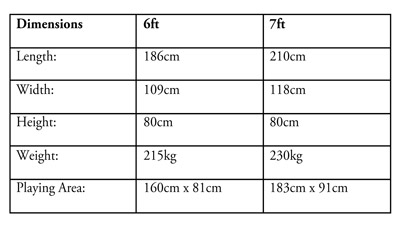 SHOWROOM VIEWING:
While the Fusion Outdoor Pool Dining Table is not available for viewing at our showroom, you can still view the Avant Garde Pool Table to get a good feel of how the Fusion feels like. With the exception of cabinetry materials, everything else is similar and will give you a good gauge to how well the Fusion plays.
AVAILABILITY:
The Fusion Outdoor Pool Dining table is built to order and will require us 3 – 4 weeks to deliver.
As always, The Men's Cave do not resell other retailer's products and are direct distributors of all our products. What that means, is that you can be assured that there are no middle-men profiting through us, and you will be getting the best price for all our items for sure!
With every purchase of the Fusion Outdoor Pool Table, we're including a free accessory set worth $250. Items include:
• 1 set of Belgian Aramith 2″ Balls
• 2 x 10mm cue tip one piece cue
• 1 x Triangle
• Chalks & Brush
• 1 x Cue Rack
DELIVERY & INSTALLATION
The Fusion Outdoor Pool Table is delivered in original packaging and installed on site. Our guys will be able to complete a professional installation of the pool table in about 30 minutes.
WARRANTY:
The Fusion Outdoor Pool Table comes with a 2 years warranty covering manufacturing defects.
FREE PROFESSIONAL ADVICE:
If you have some questions about any of our products and would like to speak to a professional about it, feel free to drop us a call at +65 6567 8615 to speak to a member of our expert team!