Product Description
Kensington Dining Pool Table
The Kensington Dining Pool Table comes with free delivery and installation. Made in Liverpool, UK, the Kensington Pool Table is the top of the line English Pool table in our range of dining pool tables.
The Kensington Dining Pool Table is available in 7ft only, and utilises a supreme quality one piece Brazilian slate fully covered in Strachan West of England cloth to provide a professional gameplay.
As an authentic English pool table, the Kensington is designed for use with 2″ red and yellow balls as standard, but you could opt for stripe/ solid on request. English pool is a game of precision where pockets are cut proportionately smaller, and is the ideal game for a 7FT pool table.
Constructed from a steel sub-frame, the Kensington is one of the most solid dining pool table in the market today. Apart from the high end playing specifications, the Kensington has hidden levellers that further adds to the class of the table.
The rails and table tops are made with solid oak and traditionally French polished for a deluxe finish. A real contemporary piece, this is one superbly built pool table that is definitely among the bests in the market today.
TABLE SIZE & FINISH:
This table is available in 7ft only.  Dimensions below can help you to plan the space.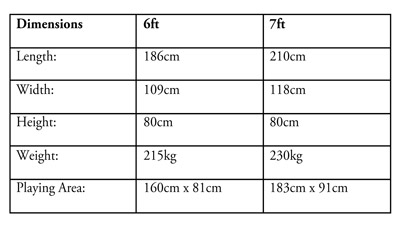 The Kensington is only available in these three colours: Light Oak, Walnut & Dark Walnut.
CLOTH OPTIONS:
Pair your cabinet finish with one of these colours. Note, colours are purely for illustration purposes and may differ slightly in actual form.
SHOWROOM VIEWING:
The Kensington Dining Pool Table is currently not available for viewing at our showroom, though you are still welcomed to drop by to take a look at the other tables in the same range and see the superb build quality that we're talking about.
AVAILABILITY:
Due to the multitude of rail finishes as well as cloth options, the Kensington Pool Dining table is built to order and will require us 3 – 4 weeks to deliver.
As always, The Men's Cave do not resell other retailer's products and are direct distributors of all our products. What that means, is that you can be assured that there are no middle-men profiting through us, and you will be getting the best price for all our items for sure!
With every purchase of the Kensington Dining Pool Table, we're including a free accessory set worth $250. Items includes:
• 1 set of Belgian Aramith 2″ Balls
• 2 x 10mm cue tip one piece cue
• 1 x Triangle
• Chalks & Brush
• 1 x Cue Rack
DELIVERY & INSTALLATION
The Kensington Pool Table is delivered in original packaging and installed on site. Our guys will be able to complete a professional installation of the pool table in about 30 minutes.
WARRANTY:
The Kensington Pool Table comes with a 2 years warranty covering manufacturing defects.
FREE PROFESSIONAL ADVICE:
If you have some questions about any of our products and would like to speak to a professional about it, feel free to drop us a call at +65 6567 8615 to speak to a member of our expert team!